There's a plague about and it's making crime pay
by Jason Steger, Books Editor, The Age and Sydney Morning Herald.
In 1852 an outbreak of typhus on the Ticonderoga as it sailed from Britain to Melbourne killed 100 people and led to the establishment of the Point Nepean quarantine station at the head of the bay.
It was that ''fascinating place'' that inspired Meg Mundell's The Trespassers, which has won the best novel in the 20th Sisters of Crime Davitt Awards, named after Australia's first crime novelist, Ellen Davitt, and seems so pertinent to events today.
Susan Hurley won the best first novel award for Eight Lives, which has its own contemporary relevance being set in the world of medical research and the testing of drugs, and The Sydney Morning Herald and The Age's finance writer Adele Ferguson won the non-fiction prize for Banking Bad, based on her investigation into malpractice in the financial system.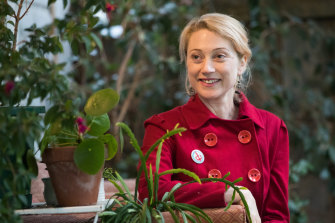 The Trespassers takes place in a not-too-distant future on the Steadfast, which becomes a plague ship following much the same route as the Ticonderoga, and involves murder and mystery.
Mundell said epidemiologists and virologists had been warning for a long time that a pandemic was coming and so a lot of her book was fact-based research.
''But then suddenly the future became now and it was very disconcerting, particularly when we had reports of people being trapped on ships. I sometimes wondered what world I was in, fiction or reality.''
It's no surprise, perhaps, that she writes fiction to comment on the present.
''The reason I like to set things slightly in the future is because it leaves you a little bit of leeway to be uncanny and to make the familiar strange and to give the reader that beautiful frisson of discombobulation. This is like the real world but something's a bit odd. So it's very much about now and it's about the past and the future.''
But she resisted the label dystopian because she didn't want to write a book devoid of love and hope.
''But if we look at the world at the moment, just objectively speaking, it's pretty dystopian. That's reality. Is dystopian fiction really dystopian or is it more of a dark mirror on reality?''
Hurley said her novel, about a Vietnamese refugee who becomes a researcher and tests his new drug on himself with disastrous consequences, had its origins in a 2006 test that resulted in several people seriously ill in hospital for months.
She said Eight Lives would give people an appreciation of the risk involved in developing new drugs.
''Our hope for the end of the pandemic is scientists discovering a treatment, but we owe a debt of gratitude to people volunteering for tests. It would be a miracle if no one had an adverse effect.''
Having been involved in pandemic planning during her career, Hurley said the Victorian hotel quarantine program was ''very, very disappointing''.
''The principles of quarantine are simple and I would have hoped our systems were able to organise something like that. This [the pandemic] is something that is likely to go on for years, given that the only virus we have successfully got rid of is smallpox. I think we need to rethink public health measures to account for this likelihood.''
Hurley is now writing a novel that she planned before the pandemic but in which a virus plays a big part: ''I have to be careful not to stoke the ludicrous conspiracy theories.''
If the real world seemed to intrude into the winning novels, Ferguson sometimes wondered whether she was writing fiction in Banking Bad. ''All the stuff that went on was a recipe for a mystery book. There were villains, victims, heroes and psychopaths in pinstripe suits.''
https://www.theage.com.au/culture/books/there-s-a-plague-about-and-it-s-making-crime-pay-20200925-p55zdr.html